Social Media Tips for Businesses
With 5 billion active users, social media provides an enormous opportunity for your business to engage with potential customers. Social platforms bring incredible reach — and drive results for your bottom line. 

But where do you begin? How do you leverage social media's potential?
Keep reading for our top social media tips for businesses. 
Benefits of social media for business
Why should you use social media? What specific advantages does social media bring? 
Understanding the benefits of social media for business sets the foundation for an effective social media marketing strategy. Social media allows you to:
Market your brand for free

Hear from your customers directly

Stay relevant with your target audience

Integrate a widely used touchpoint into your sales funnel

Complement other digital marketing strategies

Drive traffic to your website

or store
How can businesses use social media?
Now you know why social media is effective, but how can businesses use social media to drive results? Leverage social media marketing to:
Gain a deeper understanding of your target audience

Build relationships

with your audience

Provide authentic brand insights to build trust

Promote website content and products

Generate buzz and build brand awareness

Manage customer service

comments

Monitor your brand's reputation
One theme running across all those tactics? Engaging authentically and consistently with your audience. To learn how to accomplish this yourself, consider how other brands have done so. 
For example, Wendy's stands out as one of the most memorable brands on Twitter. The fast-food chain regularly responds to posts about them in a way that aligns with their brand voice, as below: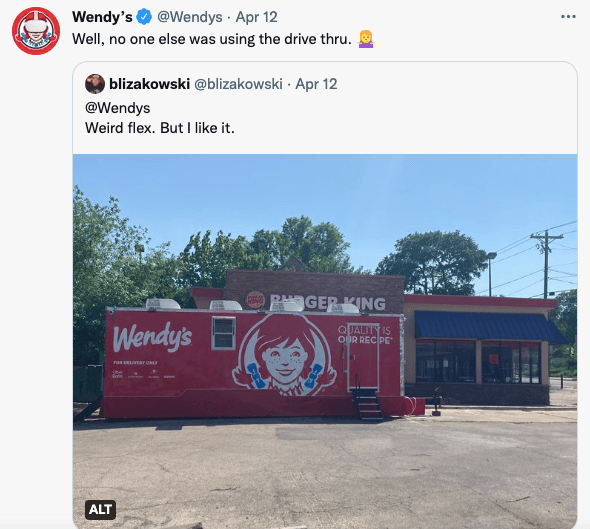 8 social media tips for businesses
Beyond looking at examples, however, we've got actionable tips to help you get the ball rolling. Leverage a results-oriented social media strategy by following these eight social media marketing tips:
1. Determine your target audience
Before you get too deep into any social media marketing tips, you'll need a solid foundation. 
Know your target audience so you can join the platforms they're on and create posts designed for them. Craft a buyer persona to dig deep into your audience's pain points. Use your posts to show how your business solves those problems.
Pro tip: Use social media to understand your audience better. Search for mentions of your brand, analyze trending topics in your industry, and see how your customers talk about their problems in their own words.
2. Choose the right platforms
With so many social media platforms available and their popularity shifting regularly, you need a strategic approach to determine which platforms your business should be on.
Your target audience should inform your decision. Which platforms do they use? Do they interact more on one platform over another? Also, consider where your competitors post online.
3. Create valuable content
You've done the hard work of understanding your target audience and the ins and outs of your chosen platforms. Awesome! Use that knowledge to create valuable content your audience will love to consume — and share. 
Follow these tips to create top-tier content:
Bring value:

Does the post entertain, inspire, inform, or help?

Limit direct promos:

Emphasize non-promotional content over direct product promotions. Try to stick to a mix of 80% non-promo and 20% promo.

Make your posts accessible:

All multimedia should have alt text and captions.

Seek inspiration:

Look to industry leaders and influencers for ideas of what to post.
We also know how widely social media pushes multimedia content. If you're not a graphic design pro, fear not! Canva offers an easy-to-use platform for creating all sorts of graphics.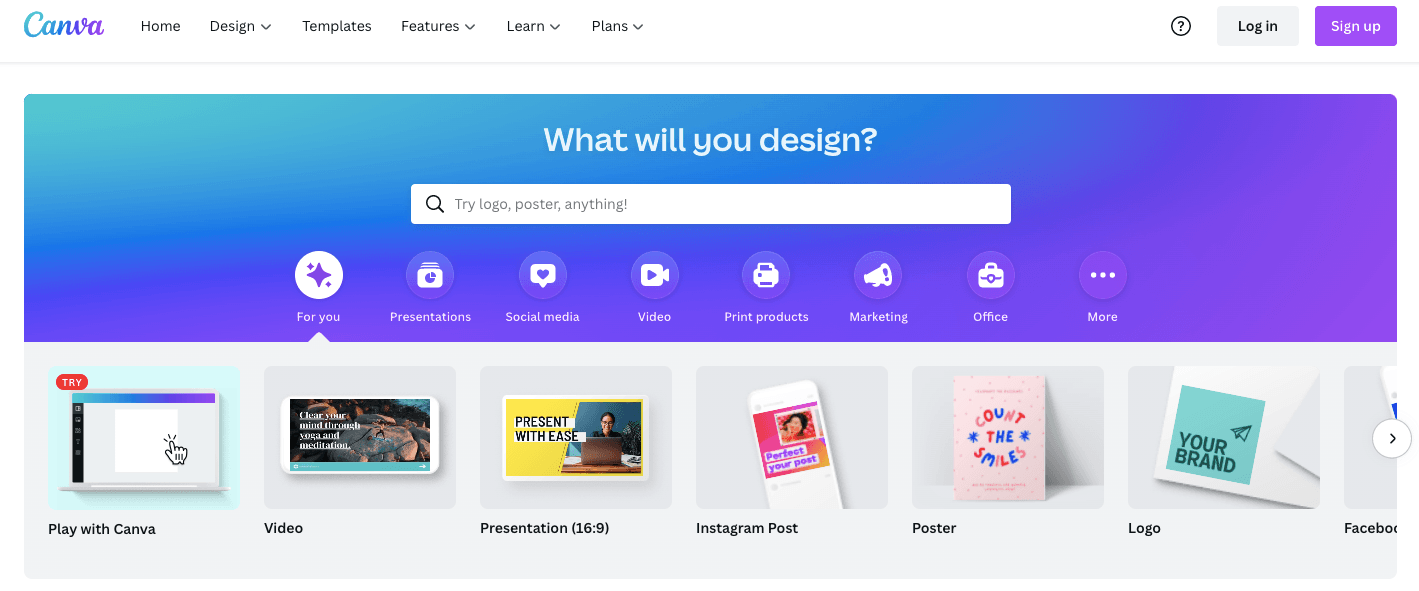 4. Post consistently
If you want to see growth, post consistently. The ideal frequency varies across platforms. For example, users post more frequently on Instagram Stories and Twitter than on the standard Instagram and Facebook feeds.
Employ a social media scheduling tool to streamline this process. You might run multiple profiles and pages, each with different content. Having a straightforward dashboard will allow you to keep track of them and ensure you don't accidentally miss a posting day.
5. Remain adaptable
Between trends and algorithms, social media changes constantly. One of the most critical social media tips for businesses is to remain adaptable. Experiment with your posts, and always keep an eye on the latest news and relevant influencers.
Want our latest predictions for social media in 2022? Check out the video below!
6. Leverage your branding
People value authenticity. As you use social media to build relationships, stay true to your brand.
Beyond writing with the same brand voice and consistent visual branding, align your content with your brand's personality. For example, followers can expect humor with a dash of irreverence from MoonPie's Twitter account.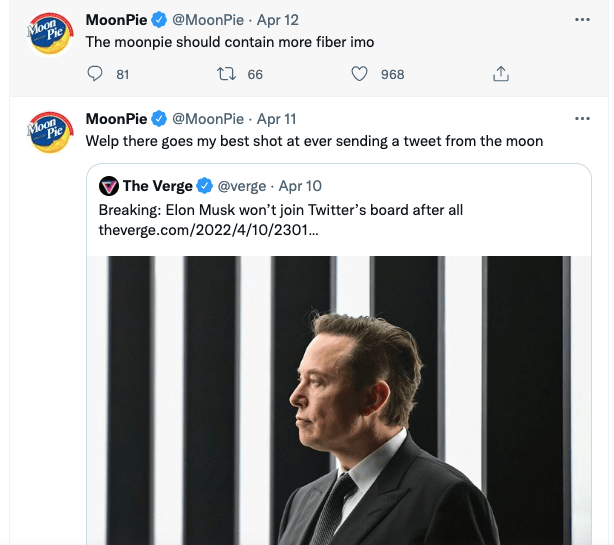 Meanwhile, GoPro leverages its adventurous branding by sharing user-generated content with daring undertones.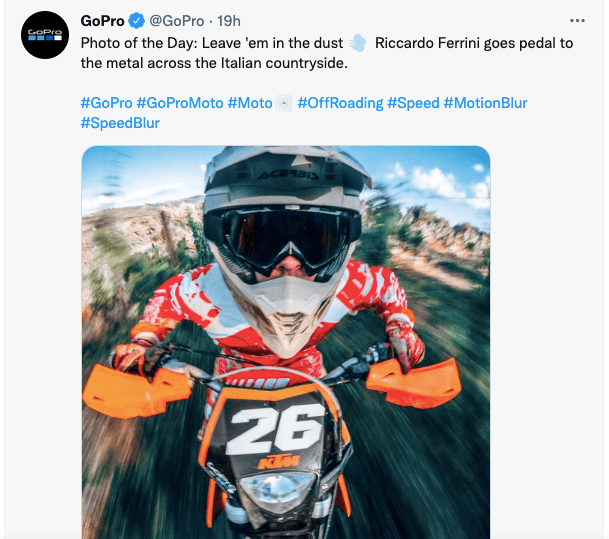 7. Use new features on the platform
Social media platforms are constantly rolling out new features. Experiment with these tools, and don't be afraid to try out an all-new content type.
For example, Instagram guides present untapped potential for many brands. Use guides to give your posts new life and bring fresh value to your followers. You can even reference your products casually — driving additional sales while focusing on the consumer.
Consider how Bare Minerals has used Instagram guides to provide themed product roundups and a gift guide:
8. Prioritize conversation
Social media provides an unparalleled opportunity for two-way conversations. Capitalize on this interactivity by:
Sharing

user-generated content

Using interactive features like polls and question boxes

Responding to comments and brand mentions

Leveraging

branded hashtags

Listening to your audience through

social monitoring tools