Does Social Media Affect My Website's Rankings?
For businesses looking to promote their products or services online in a cost-effective manner, social media can be an incredibly powerful tool. However, you may be wondering if there are any benefits to social media that go beyond the increases in website traffic and customer engagement. You may be asking, "does social media affect my SEO?"
Let's explore how social media can impact your website's rankings, and how networks like Facebook, Twitter, and Pinterest can indirectly improve your SEO.
Links from social media are nofollow
First, it's important to realize that the links to your website from posts made on social media networks are nofollow links — that is, they have a special HTML tag automatically assigned to them that keeps them from having any "weight."
Normally, when one website links to another, that site is effectively telling search engines "I trust and endorse the website I'm linking." But a nofollow link — which tells search engine spiders not to follow the link, or associate the two websites — says "I see value in linking this website, but I don't necessarily endorse the content here."
Social media websites nofollow their links for that reason. Since they don't know what their users will be linking, they can't endorse the content. They also do this because their page and domain authorities are so high that they would essentially be casting extremely powerful "votes" each time they linked to other websites, which could have a disastrous effect on search engine results. (Imagine how easily you could manipulate your rankings by simply spamming your homepage link on Twitter over and over!)
Social media activity has no direct impact on your rankings
Because social media links are nofollow, this means the links people share to your content or website can't directly impact how well you rank in Google search results.
However, Moz's 2013 Search Engine Rankings Factors Survey & Correlation study showed Facebook and Google+ activity had a strong correlation with high page ranking: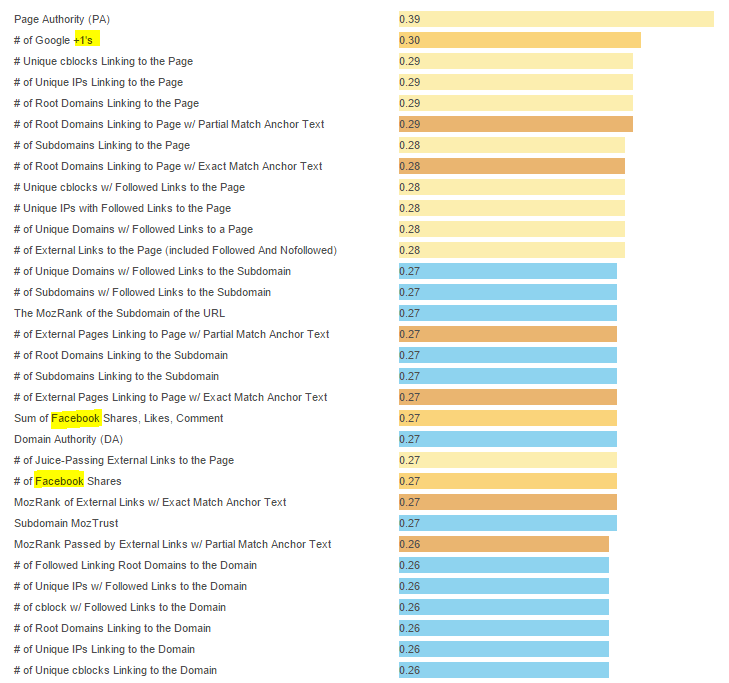 This doesn't necessarily mean that sharing your content on Facebook and achieving a high number of +1s on Google+ will result in your content being ranked higher. However, this does show correlation between pages that have a high amount of activity on these two networks and pages with higher rankings. One didn't necessarily cause the other, but they do go together.
What does this mean? What we know for certain is that social media activity can have an indirect impact on your website rankings and SEO. Here's how.
Social media shares can lead to followed links
When you share your content on social media, you're attempting to amplify it to a wider audience. Your goal may simply be to make your followers aware of something important on your site that you want them to read, or you may be advertising a brand-new product or service. Either way, you're trying to create awareness of something you have done.
Occasionally, when you share something on social media, someone may see it, look at it, and later link to it from their own website. This link will most likely be followed — that is, it will tell Google that they endorse you, and will cast a "vote" for your site that impacts your rankings.
It's in this way that nofollow links on social media can turn into followed links from other websites. All you have to do is be in the right place at the right time.
Website engagement from social media links can impact ranking
If someone visits your website from a link and leaves after five seconds, it's obvious they didn't get what they wanted. But if someone visits your website from that same link and sticks around for five minutes, they probably felt pretty good about your content.
Think about this activity on a larger scale. Google does this all the time. If a very large majority of the people who visit your site leave immediately — that is, if your website's bounce rate is very high — your rankings may suffer. Google uses the engagement metrics from users to determine how well you should rank, and that's because it doesn't want sites that most people dislike dominating the search engine results.
The same applies to links shared on social media. If your content is shared on social media, and thousands of people "bounce" from it right away, your rankings may suffer. But if your engagement is high, you could actually see improvement. The same applies for links you share elsewhere, like on other websites.
More engagement = higher potential for SEO impact
To explain this as simply as possible, the more people you engage with on social media, the better your chances are for having something happen that impacts your search engine rankings.
The biggest possibility here, as explained above, is followed links. However, engagement from your followers or fans could also lead to you getting an idea for a new piece of content that ranks #1 and improves your entire site's SEO as a result.
So while social media doesn't directly impact how well you rank, we always recommend staying active on social media networks and increasing the number of mentions and interactions you have, because there are enormous benefits. In the long run, social media can have an incredible indirect impact on your SEO, and it's for that reason that we include it in our website grader tool.
Have any questions about social media, search engine optimization, or how to interpret your report? Feel free to reach out to us at any time and let us know!