7 Smart Social Media Tips for Businesses
When you jump into the vast, ever-changing ocean that is social media marketing, it can seem overwhelming at first. With so many companies already making waves, it may feel like you've run out of creative ways to promote your business on social media.
Have no fear, though, because we're here to reassure you that, yes, you can still make a splash on social media this year with these smart social media tips for businesses like yours!
In this post, we'll break down some of our top social media marketing tips for this year that keep your pages fresh and inviting to users, including:

Keep reading to stay in the know about some of the best social media tips for businesses!
1. Understand your audience
Put yourself in the mind of your target audience: What are their likes and dislikes? What are their shopping and spending habits? Do you know what motivates them to buy? Where are they spending most of their time online?
Understanding your target customers' attitudes is key to running a successful and engaging social media campaign.
Audiences range in age, ethnicity, socio-economic status — the list goes on! By being conscious of who you're trying to reach on social media, you can ensure you're posting content that's appealing to them.
If you're struggling to nail down what kind of content you want to share with your audience, consider creating marketing personas. Marketing personas give you a comprehensive look at who you're trying to reach with your social media marketing, making it easier to address their needs and wants in your posts.
2. Use the right platforms 
Once you've nailed down your target audience, you can determine what social media platforms your business should use. Every platform attracts specific demographics, so you want to focus your efforts on platforms where your target audience is most present.
Here's a brief breakdown of who you can expect to see on some major social media platforms:
Facebook

: 25–34-year-olds

Instagram

: People under 35

Twitter

: 18–29-year-olds

TikTok

: 18–24-year-olds
3. Define your marketing goals
Every business joins social media for a reason. What's yours? Are you trying to increase engagement? Bump up your follower count? What about boosting your conversion rate?
Whatever your goals, make sure they're clearly defined when developing your social media marketing plan.
Consider the SMART framework when outlining your goals for social media:
S

pecific

M

easurable

A

ttainable

R

elevant

T

imely
Defining your social media marketing goals and objectives helps you to create a comprehensive and successful social media strategy. Setting specific goals ensures you're taking the necessary steps to achieve them. They keep you focused and help you to maintain a social media strategy that drives results.
4. Be authentic
Social media is a place for businesses to pitch themselves to potential customers they otherwise might not be able to reach under normal circumstances. But don't forget, social media is a place to be exactly that — social! It's entirely possible to run a professional business account on social media while still being personable. In fact, it's encouraged!
In this tweet, Starbucks took advantage of a trending meme and made it their own to connect with their audience.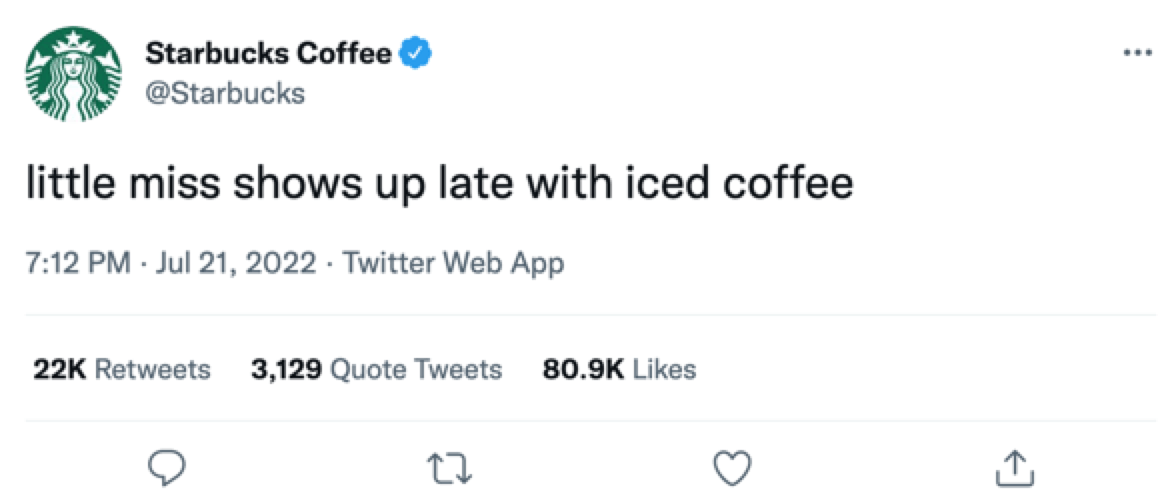 Don't be afraid to let your personality come through in your posts — it lets your audience know you're just as human as they are and makes your business feel more approachable. It's a great way to increase engagement on your page, gain new followers, and even help users make a valuable connection with you.
5. Track your results
In a perfect world, everything we do would be met with success. Unfortunately, that's not the case, but with ad tracking technology and analytics, you can keep an eye on your social media campaigns and ensure success.
Tracking your social media data is a surefire way to get the most out of your social media marketing campaign because you get real-time results from your posts that can help you refine your campaigns and get to know your audience better.
The idea of tracking all those different stats and metrics can be pretty daunting, but luckily we know a thing or two about tracking social results and creating campaigns that drive the best results, and we can help you!
6. Be engaging
Create content that people will want to interact with. Too often, we see companies post content that goes virtually unnoticed by users because the posts offer no incentive to explore the brand or product.
Including clear calls to action (CTAs) in your posts can keep your users engaged beyond simply clicking that "like" button and moving on.
Engaging content can be anything from posts from other industry leaders, helpful articles that expand your customers' industry knowledge, polls and surveys, or user-generated content. It might also help to revise your content management workflow to better equip your team to juggle social media content on top of any other content they may be creating.
Below, Starbucks encouraged audience engagement with their tweet about their different reusable cups.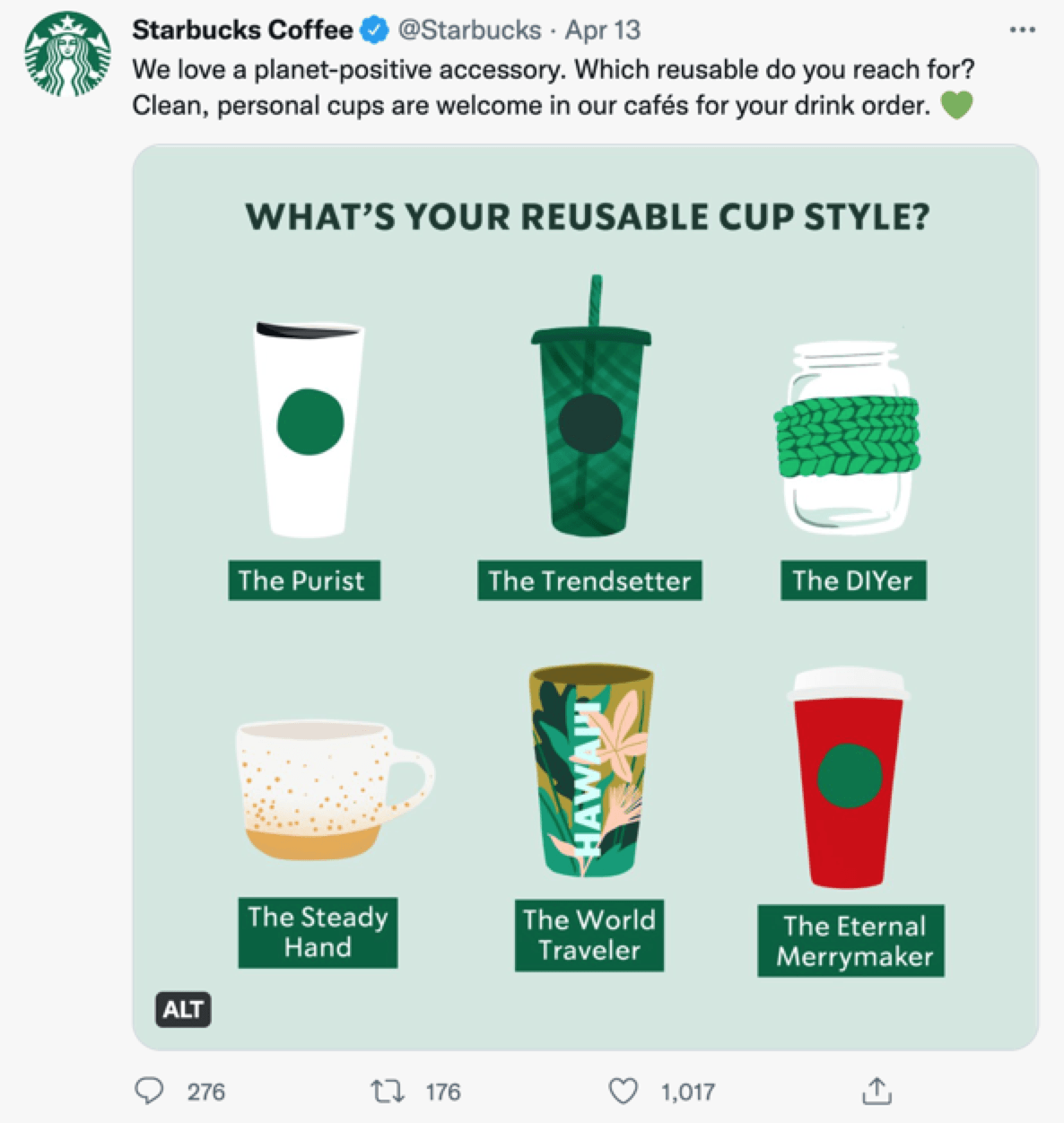 Engaging social media posts offer your followers an incentive to keep interacting with your page and encourages more clicks. What business doesn't want that?
7. Don't be afraid to use paid ads and promotions
Finally, don't be afraid to allocate some of your marketing budget toward paid advertisements on social media channels.
Paid ad services on social media platforms can help you reach a wider audience and increase brand visibility. Ads on sites like Facebook have the potential to reach up to 1 billion people, so it's no wonder that 73% of marketers said their marketing campaign was effective.

Social media ad opportunities like Facebook Ads and Instagram Ads allow you to create web content you can target towards specific demographics within your audience. Additionally, they come with tracking and analytics tools that allow you to monitor the success of your campaign and adjust them for a maximized success rate.