Which Is Better for Your Business: SEO or PPC?
SEO vs. PPC: Which will drive the best results for you?
When researching products, 80% of shoppers start online. How do you capitalize on those potential leads?
You need your site to show up in their search results, and you can accomplish that through search engine optimization (SEO) and pay-per-click advertising (PPC). Both aid in customer acquisition online, but they also serve different purposes.
Want to know which works better for your digital marketing strategy (and whether PPC ads affect SEO)? Keep reading to learn more about the differences between SEO vs. PPC! 
SEO vs. PPC

SEO and PPC differ in where your page lands in search results and whether you need to pay for that placement. Before we dive into a more detailed breakdown of SEO vs. PPC, let's define SEO and PPC.
SEO is the process of optimizing your website to appear at the top of the search results for relevant keywords. SEO includes technical site setup, content creation, on-page optimization, and off-page tactics such as building links to your site.
With a strong SEO strategy, your site appears among the first results when users search words related to your business. For example, in this screenshot, a Facebook page appeared first in the organic results for "simple patio furniture."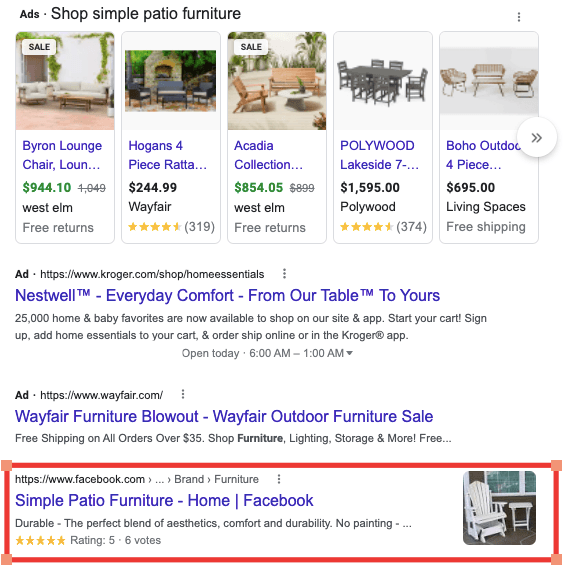 PPC is a form of advertising in which you pay for each click. A type of search engine marketing (SEM), or paid search marketing, PPC allows you to pay for placement at the top of search results. Because of Google's reach, most marketers use Google Ads for their PPC strategy.
Using our previous example, you can see that the top organic result appeared after several paid results.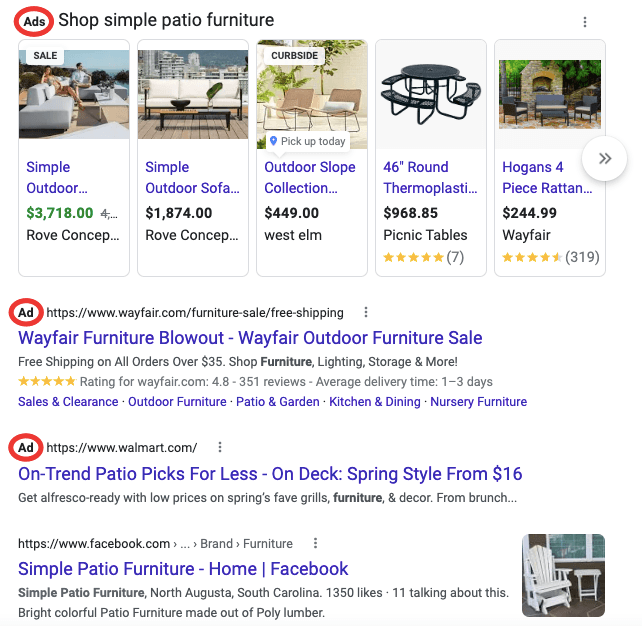 Now that you know some of the key differences between the two, you might be wondering, "Which is better: SEO or PPC?" In short, there's no simple answer. But we'll outline some situations fit for SEO and some in which PPC works well.
Which is better: SEO or PPC?
SEO and PPC, also known as SEO and SEM, each work best with different goals. SEO is better for long-term strategies, while PPC is better for short-term results and speed. 
When to use SEO
Both strategies have distinct benefits, but some scenarios in which you might want to use SEO vs. SEM include:
Building brand trust:

Google wants to rank the most authoritative and valuable sites first, so creating SEO content helps build your site's credibility. The more users see you at the top of the results, the more they'll think of you as a subject matter expert.

Generating long-term ROI:

While SEO requires the expertise to create a quality site and

SEO-friendly content

, this strategy doesn't entail paying for every click. Once your site is up and running, you'll see substantial ROI.

Scaling your keyword reach:

You can also scale the number of keywords for which you rank more cost-effectively than you could with PPC. You'll need to generate strong content for each new keyword, but you won't have to pay for each new ad click.

Ranking for keywords with high CPC:

Some keywords have an incredibly high cost-per-click (CPC), even over $100. With SEO, you can still reach the first page of the search results for those keywords without paying a high CPC.

Optimizing your site for UX: Your website serves as a critical touchpoint for your brand. Integrating SEO into your marketing strategy encourages you to make your site user-friendly and helpful.
However, SEO also has a few cons.
SEO takes longer than PPC to see results. You also need expertise in many different areas, including content marketing, web development, and design, and link-building. 
To keep your site optimized, you will need to update it regularly. SEO doesn't require consistent payments of PPC, but this strategy still involves a continual investment. 
Need to know how your site's SEO is doing? Grading your website is free and takes less than a minute! Check your SEO now.

When to use PPC
On the flip side, PPC carries much more flexibility than SEO. Use PPC for:
Generating more conversions quickly: While SEO requires building up your site's authority over time, PPC only requires a quality ad, a strong keyword and targeting strategy, and a strategic bid. With well-optimized PPC ads, you can start getting more leads to your website the minute your campaigns go live. 
Testing new messages or products:

Take advantage of PPC's instantaneous nature to test new marketing strategies. If you want to evaluate how a new product might land among your target customers, create a PPC campaign and track your results. 

Promoting time-sensitive messages:

Do you have a seasonal product, or are you holding a holiday sale? Use PPC to promptly get your site to the top of the search engine and generate the most results possible for limited-time messages.

Competing among competitive organic results:

For some keywords, the organic landscape will prove much more challenging to break into. This notion holds especially true for newer, lesser-known sites that would need to outrank well-known brands like

Target

and

Amazon

. You can also use negative keywords to prevent your ads from appearing in low-quality searches, like someone looking for "free clothes."
Leveraging visual ads:

Search for your target keywords and note the paid results. Many ecommerce searches will feature paid ads with product images, like in the screenshot below. These PPC spots provide a unique visual opportunity you can't get with SEO alone.
While PPC has many benefits for your business, this strategy also faces a few cons.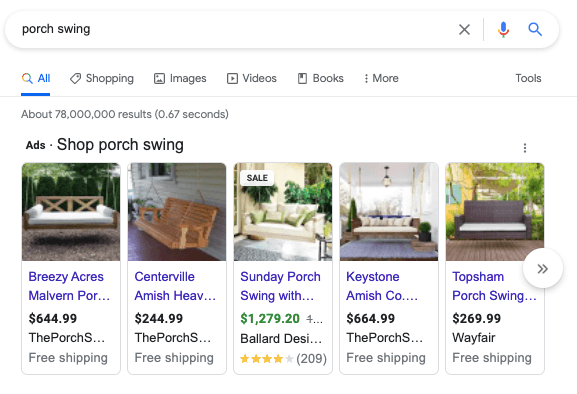 Because you're paying for your target keywords — and you must bid competitively — running an extensive PPC campaign can carry high costs, depending on your industry. Competitive bidding drives the price up, and you might have difficulty keeping your ads distinct from your competitors' ads. 
You'll also need to understand that some searchers ignore paid results for lack of trust. Running an effective PPC campaign also requires learning how Google Ads works — a significant time investment.  
How to use SEO and PPC together
As you can tell, the analysis of SEO vs. PPC is complex, and each strategy benefits your company in different ways. Our #1 tip? Use SEO and PPC together to create a robust, data-driven digital marketing strategy by:
Maximizing your visibility in the search results through paid and organic spots

Testing potential keywords through PPC to target your SEO strategy

Evaluating PPC ads and landing pages for your SEO content
Together, SEO and PPC are a powerful combination that allow you to tap into search engine marketing on Google.