What Is a Google Sitemap? | XML and HTML Sitemaps
The definition of a sitemap is an online document that tells Google (and most other popular SERPs) what pages are on your site, how important they are, and whether they're available to crawl. There are two different types of sitemaps: HTML and XML. 
What's the difference between an HTML and XML sitemap? 
Your website has two kinds of visitors — humans and robots. The coding language your site uses, either HTML or XML, caters to one audience or the other. Hypertext markup language (HTML) is used to optimize the human user experience, and extensible markup language (XML) is for search engine readability.
Both kinds of sitemaps benefit your site in different ways.
HTML sitemaps
An HTML sitemap will create a navigable menu for your visitors. To see an HTML sitemap in action, head over to our sitemap and check out how we organize our content for visitors!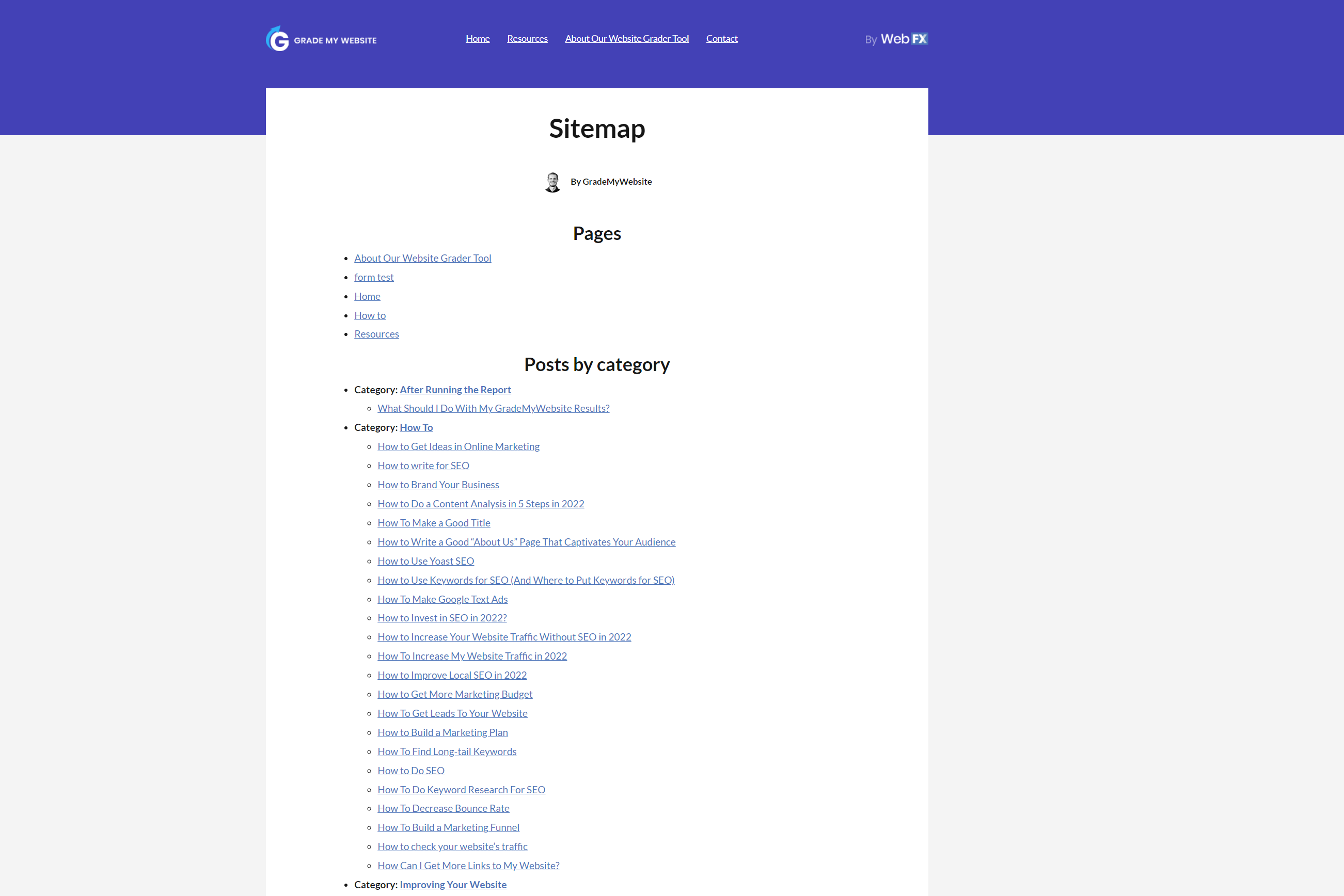 This HTML page is designed specifically for human visitors, and you can find it at the bottom right of our landing page under "Sitemap." 
Most websites have a similar HTML sitemap at the bottom of their landing page. 
XML sitemaps
On the other hand, an XML sitemap is for search engine readability. These maps are .xml files you can create manually or through a website plugin.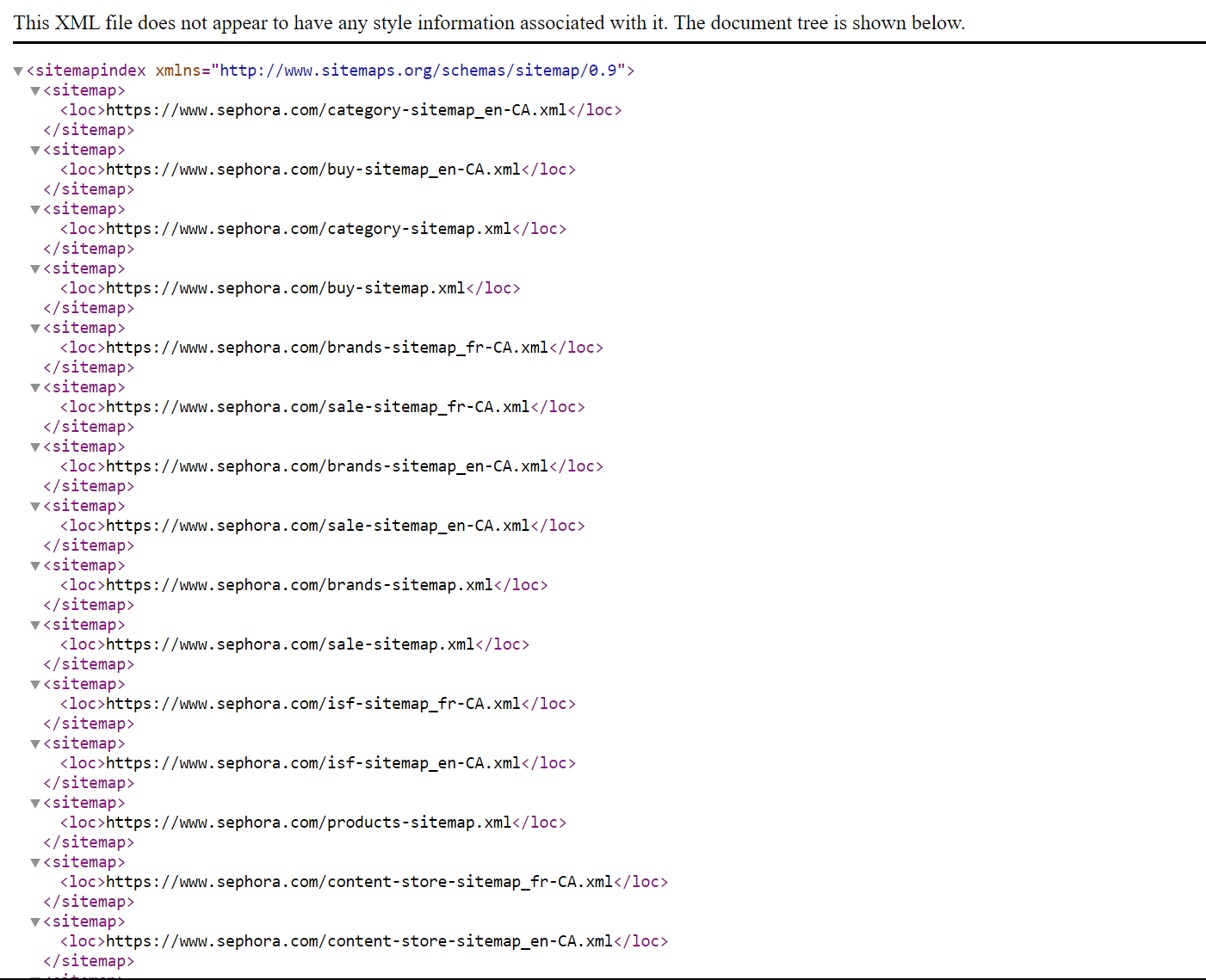 Once created, you can upload the file to Google Search Console so it has an updated list of categorized pages on your site. 
How a sitemap works
Think of a sitemap as Google's menu for your website. When you visit a restaurant, the menu has a structure that makes sense to you – appetizers, entrées, and desserts. 

 Within each category, there are subcategories – sandwiches, soups, salads, and more. This setup helps you navigate what's available, and the most important categories take priority due to the natural order of how we eat our meals. 
A sitemap works the same way — but for Google's crawlers. Your site will also have pages in a natural order of relevance, beginning with your landing or home page. Websites usually feature a page menu bar which might include: 
Products and services.

An "About Us" section. 

Contact form.

Blog.
You'll find all of your site's subcategories and related content within these main categories. For example, your pages might include additional links to more specific content:
A "Products and Services" page will lead to "Basic or Pro Package Pricing" pages.

An "About Us" page to the "Founder" page.

Your blog page to a page with all of your blog posts. 
Keep in mind that the further a page is from your landing page, the more difficult it will be for Google to find and crawl it. A good rule of thumb is to make sure every page on your site is – at most – three clicks away from your landing page. 
Do I need a sitemap?
While it's possible to forgo a sitemap, remember that Google and other SERPs are more likely to recommend your site to searchers if it's easy to index your site's content. In other words, your site will receive more traffic when you help Google find and categorize all of the fantastic content you created. 
Your site could benefit from a sitemap if:
Your site has more than 500 pages. 

You haven't linked to some pages (yet). For example, if your site has quite a few blog posts, but you don't have a "Blog" tab in your main menu, Google might struggle to locate these pages.

You don't have many backlinks from other authoritative sites.

Your site has a lot of rich media content like images and videos. 

How do I make a sitemap?
What does a sitemap look like? You can create a sitemap in two ways — manually or automatically. You can create your sitemap manually if you're familiar with coding and UTP-8. If you use a content management system that accommodates plugins, like WordPress, Blogger, or Wix, you can create sitemaps automatically. 
Most people opt for a plugin because it is quick, simple, and accurate. However, if you opt to create it manually, check out this XML sitemap validator tool to ensure your map is up to spec before submitting it to Google.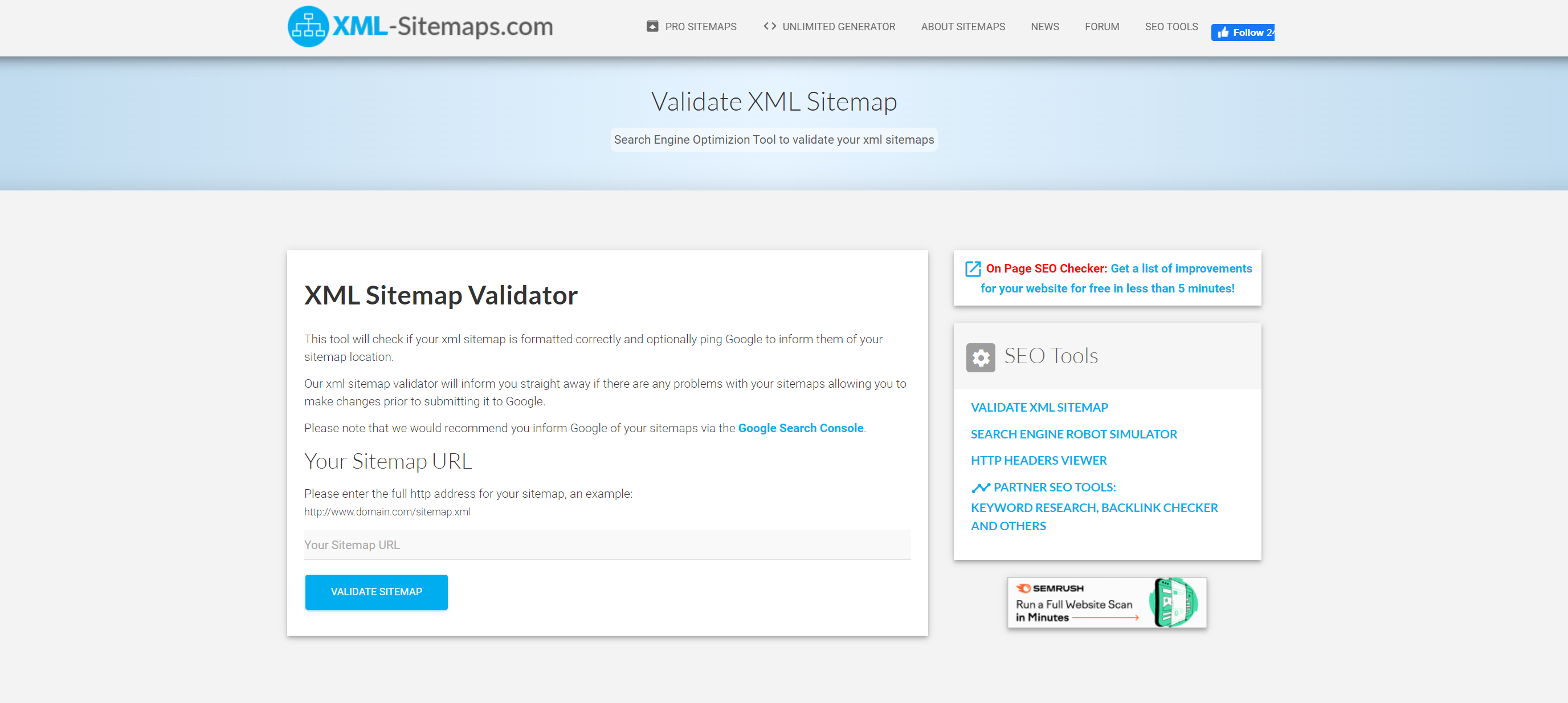 If you decide to use a plugin, check out Google's recommended sitemap generators to determine which is right for you. Some fan favorites include Yoast SEO and All in One SEO. Once you install the plugin, find the features setting and toggle the option for your XML sitemap to "on." 
If you use WordPress and your version is 5.5, or later, you won't need to install a plugin. Just type your site into your browser, add a forward slash and "wp-sitemap.xml," and get an autogenerated XML sitemap.
Sitemaps and SEO: Do they help? 
Think of it this way — when you enter a theme park, you could make your way around the entire park without a map by following the signs and sidewalks, but it would take a lot longer. Likewise, SERPs can find their way around your site by just following internal links. 
But if you want to know where to find a certain roller coaster, a map of the rides and where they're located will save you time and energy. In the same way, submitting a sitemap to Google will only help your website's searchability!
What are the benefits of having a sitemap? 
In addition to improved searchability and SERP rankings, a sitemap benefits your website in several ways. First, you'll control which pages SERPs consider most important.
You can also tell Google when you've last modified the pages on your site. Then, you can update your sitemap, so Google knows your pages are relevant and up-to-date for users — potentially beating out competitors that don't regularly update their pages or sitemaps.
You can also tell Google which pages not crawl. For example, Google will try to crawl and index all pages — even pages that aren't relevant to users, like a login page. First, make sure your login page isn't linked to anywhere else on your site. Then use a robot.txt file to hide or disallow crawlers from indexing that page.
P.S. Wondering how to get Google to crawl your site faster? Check out this article!