What Are SEO Services?
SEO stands for Search Engine Optimization and involves making changes to your website to improve your rankings on the search engine results page. By implementing SEO strategies, businesses can improve their website's ability to rank higher on search engines like Google and Bing. Many businesses have started SEO campaigns in order to improve their website's position on the search engine results page. 
In order to develop the best SEO strategies, businesses often hire a digital marketing agency to provide SEO services. Companies that purchase SEO services from an agency will begin to see improved traffic and conversions over time as they rank higher on search engines' results page. How much SEO services cost depends on several factors, like the agency's location, your strategy's aggressiveness, and more.

Types of SEO Services
Each agency may provide a unique set of SEO services. Often, agencies will bundle a variety of services into one SEO plan. The following are a few services that are more common to find among most SEO service providers.
When a user types a word or phrase into the search bar, Google will review all the pages it has indexed to determine the best pages to return to the user. One of the ways Google evaluates a page to see if it is relevant is by looking for keywords that match the user's search terms. To signal to Google that your content is relevant, you should include keywords that your target market would be most likely to search for. These keywords should appear in your titles, meta descriptions, and throughout the content on your site. 
An SEO agency will perform in-depth keyword analysis to determine which keywords your site should use. After researching, they will optimize each page on your website for the important keywords they discovered. 
Google values fresh and unique content. It is recommended that every page on your website should have at least 500 words. For that reason, many SEO agencies will offer copywriting services where they create new content for your site. Whether you need product sales copy or blog posts, an SEO agency can help you build the content on your site and develop a content marketing strategy.
Links are another major ranking factor for search engines. A link to your website can be compared to a vote. The more links you have from other websites to your website, the more credible you look to search engines. 
SEO agencies often implement a link-building strategy to help you gain more links to your website and build your site's authority. Having valuable content for other sites to link to on your site, makes it easier to build links.
Technical Optimization
Many technical items on your website need to be optimized to make it easier for search engines to view your website properly and index each page. An SEO agency will be able to assist with some of the following technical SEO elements:
Sitemap: There are two types of sitemaps your site should have. An HTML sitemap is a page on your site that provides links to all pages on your site. An HTML sitemap can help both users and search engines navigate your site. The other type of sitemap is an XML sitemap. The XML sitemap is created specifically for search engines and helps ensure that important pages on your site can be crawled by search engine spiders and indexed.  
Robots.txt:

A robots.txt file is used to tell search engines which files and directories they are allowed to crawl. 
Page Speed:

Google wants to provide users with great experiences. If your page doesn't load within two to three seconds, users will be more likely to exit your page and choose another website to visit. Taking steps to improve your page speed will help provide users with a better experience and show Google that you care about the user's experience.
Although the above list doesn't contain all technical SEO items an agency can help you with, it provides an idea about the types of items your business may need help optimizing.
Local SEO 
Local businesses often need to optimize their website for local cities and areas they serve, and also to improve their local SEO. One important way to optimize for local search results is to claim and optimize your Google Business Profile page, and improve Local SEO Google uses information from your Google Business Profile page to create location cards, similar to the one below, that appear on the right-hand side of the search engine results page. To optimize your Google Business Profile page, you need to ensure your name, address and phone number are correct. You can also provide items like a brief description or hours.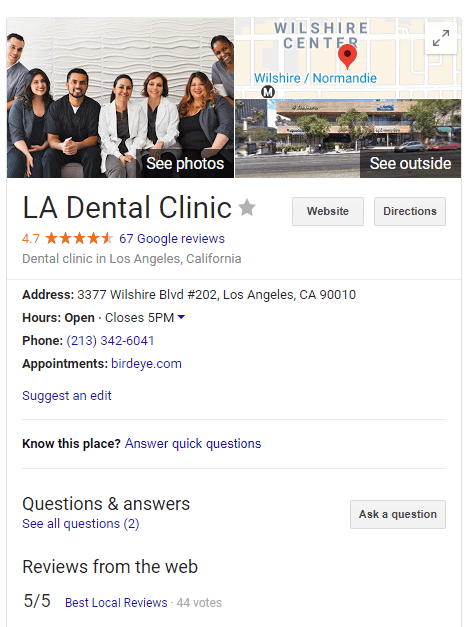 Also, you may need to optimize pages on your website for local keywords. For example, if you are a dentist in Los Angeles, you would want to optimize pages on your site for keywords like "dentist Los Angeles" or "tooth cleaning Los Angeles." Optimizing your website for local keywords will help you appear higher on the search engine results page for local searches.
Paying For SEO Services
Because each SEO agency offers unique services, prices vary greatly between agencies. Although the cost of SEO services may seem high, you should consider SEO as an investment that will benefit your business for years to come. Many agencies provide customizable plans that are sure to fit your budget.
Typically, SEO agencies can charge in one of four main ways: 
Hourly:

Hourly rates can range from $75 to $150 per hour. 

Monthly:

Monthly rates are common for businesses who want to partner with agencies more long-term. Depending on the size of your site and the items included in your SEO package, monthly rates can range from $400 to $4,000 or more.

Project:

Agencies may charge a project fee. Project fees can range anywhere from $1,000 to $30,000 or more depending on the size of your SEO project.

Performance:

Some agencies only charge once you achieve results for your website. If you don't achieve better rankings, you don't have to pay.
With a variety of different SEO packages and pricing methods, you are sure to find an agency that can work with your business to provide a variety of SEO services. 
Picking the Perfect Agency
When deciding who to hire for SEO services for your business, there are many agencies to choose from. You may need to ask other business owners for referrals or use third-party ranking sites to determine some of the potential agencies you can work with. If you want a variety of SEO services, you will want to make sure the agency you choose can provide all the services you desire. It will save you time and be easier for you to work with one agency instead of multiple.  
Don't wait to get started optimizing your website for search engines. Start looking for an agency today that provides multiple SEO services that can help you grow your business.