Why Local SEO Is Important
If you've run your site through our grader already, you probably have a solid handle on which aspects of your SEO need a little work. You may need to work on adding keywords, building links, or boosting the quality of your site (or maybe all of the above), but there's one more thing you should think about when you start working on your optimization: local SEO.
Although our grader doesn't have the ability to analyze and grade your local SEO, it's important that you do it. If you're not sure how, you're not entirely sure what local SEO is, this post might be extremely useful to you.
What is local SEO?
Put simply, local SEO is a set of tactics designed to help your site rank well when people near your business search for the products and services you provide. Unlike regular SEO, which tends to focus solely on keywords related to your industry, doing local SEO involves using names of specific towns and cities. Depending on your business goals, you might also choose to invest in regional SEO, which targets a larger area.
These location-based keywords can be used along with your regular keywords to form long-tail phrases. And although local SEO is definitely important for small, local businesses, they aren't the only ones who can benefit from it.
Why is local SEO important?
Think about the keywords you want your site to rank well for. For example, if you run a restaurant, maybe you want users who are searching for "Italian food" to find you. Now, think about the people who search for that term. Thousands of people from all over the world probably take to the Internet to find Italian food every single day.
Now, think about the odds that those people will actually come to your restaurant. Unless you run a giant, worldwide chain, chances are that you really only need to reach the ones within reasonable driving distance. That's where local SEO comes in handy.
By targeting the people in your area (instead of people all over), you'll not only increase the chances that the ones who visit your site will become customers, but you'll also be competing for a much smaller pool of attention. Less competition means higher chances of being noticed, which is never a bad thing on the Internet.
How can you analyze your site's local SEO?
Our report doesn't take local SEO into consideration, but it is certainly possible to analyze your site's local SEO on your own. Start by searching for one of your keywords along with the name of your city (ex. "shoe stores in Philadelphia") and see if your business shows up.
If not, you have some work to do. And even if you do, don't immediately assume that your site is good to go. Search engines like Google actually take your browsing history into account, so if you frequently visit your company's site, the results you see could be influenced by that.
Try logging out of your Google account (or using someone else's computer) and see if you get the same results. If your business ranks well there, your local SEO is off to a good start.
How can you improve your site's local SEO?
There are many ways to improve your site's local SEO, but you can start by optimizing your site for location-based keywords. Including your city name in your title tags, meta descriptions, and headers is relatively simple, but can go a long way in boosting your visibility.
You should also register for a local listing with Google if you haven't done so already. This only takes about 15 minutes, but will allow your business to show up on the map that shows up for many local searches. For example, take a look at the results I see for "shoe stores Harrisburg":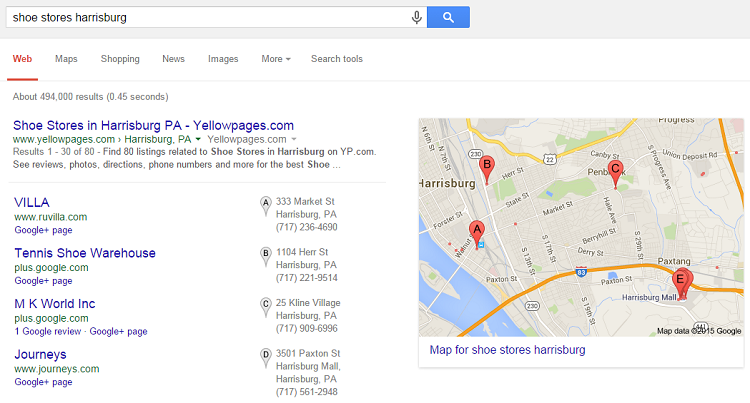 Not only do I see the exact locations for these businesses, but I also see their phone numbers and links to their sites. This would make it extremely easy for me to learn more and possibly become a customer.
So how is your site's local SEO? If it isn't great, or if you still aren't sure, feel free to use the form below to contact us today!