How to Improve Local SEO in 2023
An Insider's Guide on How to Improve Local SEO in 2023
In the 21st century, a group of friends or family want to grab a bite to eat, so they simply ask the voice assistant on their phone about the nearest restaurants. Google decides which local restaurants to rank first for this question based on each site's search engine optimization (SEO) practices.
When you picture these scenarios, it becomes obvious why local SEO is so important. Nearly one-third of all searches performed online through Google relate to a specific location. Additionally, 76% of local searchers visited a business related to that search within a day. In other words, SEO ensures your business is close and convenient when the consumer needs it most.
In this article, we'll walk you through how to improve your local SEO with the latest cutting-edge methods, so you can achieve a top ranking for your site. Read on to explore more.
What Is Local SEO?
Local SEO focuses on achieving a high ranking on the search engine results pages (SERPs) for a local business. For example, a restaurant in New York called "Little Louie's Pizza" wants to rank for people searching in New York instead of being confused with "Little Louie's Pizza" in Chicago.
Google My Business is an intuitive tool that allows businesses to personalize and manage their presence on Google Search and Maps, including their business story, business information, and more. An outstanding profile will help you rank high on the SERPs.
Proximity and keywords are the main signals that Google My Business considers for SERP ranking. When you send these signals, you have an opportunity to appear in the Google three-pack. The three-pack is the top three results for local search and the most prized position on the local SERPs.
7 Tips for Boosting Your Local SEO Ranking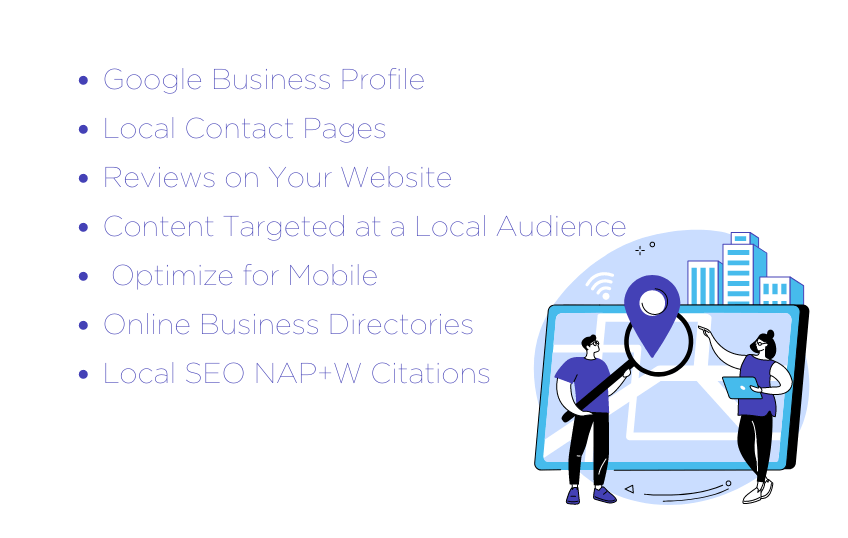 These seven insider optimization tips will help you to move up the ladder on the Google SERP and aim for the three-pack at the top of the SERP.
Optimize Your Google Business Profile
You'll need to create and verify a Google Business Profile (former Google My Business) page. Then, use the Google Posts tool to upload photos and text. You can also encourage your customers to share reviews online.
You should set up an automated reply that clarifies your specific location at this stage. For example, "We are so grateful you took the time to offer your feedback on [product] in [city, state]. We place great value on customer feedback as we grow to meet your needs and look forward to hearing from you in the future. The entire team at [company name] thank you."
Create Local Contact Pages on Your Website
It's also important to launch local contact pages on your website. You should include your name, address, phone number, and website (NAP+W) for each individual location with a Google Map for each spot. Be sure to write original text for every location, even if they offer the same products or services, because Google will flag duplicate pages and lower your search engine ranking.
Include Reviews on Your Website
Encourage your audience to leave testimonials on your website. Google My Business receives reviews as trust signals. They'll help increase your ranking on the SERP and tell the search engine and your audience that you're credible and authoritative.
Generate Content Targeted at a Local Audience
Creating content specifically for audiences is another key factor to boost your SERP rankings. One excellent way to accomplish this goal is to provide free educational resources like industry events, employees, news, and more. 
You should choose your focus based on whether you're a business-to-business company (B2B) or a business-to-consumer company (B2C). For example, a B2C hotel targeting local users might include a list of local attractions, information on local restaurants, and a map of the best historical sites to visit. A B2B marketing company could include a calendar of professional events in the area, a map of the best places to advertise, and more.     
Optimize for Mobile
A key approach to ranking on local search results is to optimize for mobile. Making your phone number clickable is an essential factor of mobile optimization for local SEO. The number allows someone to easily call you at their convenience.
For example, someone searching for a local restaurant like Olive Garden can immediately call to find out if there are tables available at a specific location.
Optimize Your Presence in Online Business Directories
Apple, Bing, Google, Yelp, Trip Advisor and many other sites receive their map data aggregation from four main companies in the U.S. These companies include Foursquare, Factual, Neustar Localeze and Express Update. If your website has inconsistencies across these platforms, it can confuse Google and prevent the search engine from showing your local results.
Build Local SEO NAP+W Citations
It's crucial to receive local SEO NAP+W citations. In simpler teams, you need mentions of your local information elsewhere on the internet to build your authority with the Google search engine.
You can receive these citations in several ways. You can guest post on a local blog, register in local business directories, list your business on industry websites, and register on local search engines like Yelp.