How to List Your Website on Google
Search Engine Marketing (SEM) has become a significant part of every business's marketing plan. Generating traffic to your website, whether that's utilizing organic search with Search Engine Optimization (SEO) or paid search with Pay Per Click advertising (PPC), is a must in today's marketing climate. If you want to list your website on Google, bringing traffic to your website is essential to your digital marketing strategy. Still, you might be wondering how you can utilize Search Engine Marketing to get traffic to your website and bring foot traffic to your brick-and-mortar store. 
Bringing in foot traffic through SEM can be achieved with Local SEO. Local SEO is a strategy that helps businesses with a physical location become more visible in local Google search results. Local SEO is a must for local businesses with a physical location, and it can provide a critical competitive edge for small businesses. 76% of people who mobile search for something nearby visit a business within a day, and 28% of searches for something nearby result in a purchase.
A strategic subset of local SEO is regional SEO, which allows you to target a larger area. You can choose the right strategy for your company based on your business goals.
P.S. If you're looking to submit your website to Google outside of local SEO, use Google Search Console.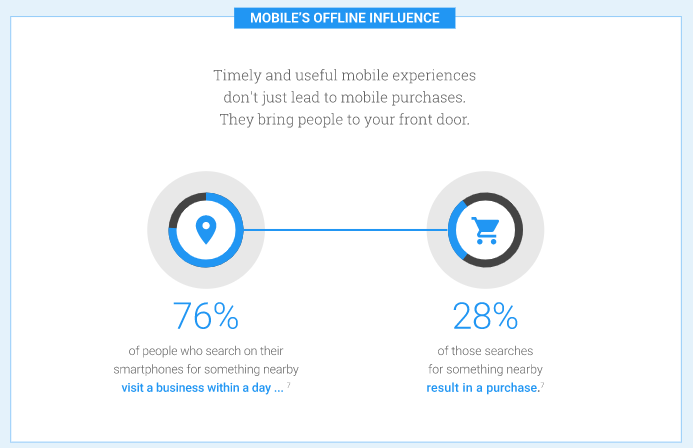 Source:https://www.thinkwithgoogle.com/marketing-strategies/app-and-mobile/mobile-search-trends-consumers-to-stores/
Create a Google My Business Account 
The number one way to list your website on Google, and your business, is to create a Google My Business account. Google My Business is a free tool that allows small business owners to promote their businesses' information on Google Search and Google Maps. It helps potential customers find your business location, learn more about your business, and contact you online. In turn, it allows business owners to interact with customers through messaging, phone calls, and reviews. With Google My Business, you can also include photos and videos and feature other information about your business, such as products, services, and operating hours. 
To list your business on Google and start getting more customers through your door, follow these steps to set up a Google My Business profile:
Step 1: Create a Google Account 
The first step in setting up a Google My Business account is creating a Google account. If you don't already have one, creating one is free. You want to make sure that you're not using your own personal Google account. If you already have an account for your business, all you need to do for this step is sign in.
Step 2: Create a Business Profile

 
There's a chance your Business profile already exists because it's just a location on Google Maps that anybody can add. To see if you already have a Business Profile, you need to:
Go to

google.com/maps

.

Search for your business's name. 

If your name shows in the drop-down, then you have a Business Profile already. 

If you don't see your business name, then you need to select "Add a missing place."

Provide the required information about your business in the form.

Step 3: Create a Google My Business Account 
Once you have a Google Account and Business Profile, you can finally create your Google My Business account. To set up an account, follow these steps:
Log into your Google account and go to

google.com/business

.

Select "Manage now." 

Google will then ask you for information about your business which includes:

Business Name – Make sure you spell it correctly and enter it exactly how it appears on other business listings you have online already. This will be important later for your Local SEO strategy.

Address – Entering your address will help customers accurately find your business on Google Maps and Search. You can also choose whether you serve customers at your address or don't serve customers at your address. If you don't, you can select the service areas where you deliver goods or services to your customers. 

Website – This will help drive traffic to your site and allow customers to learn more about your business. Google My Business tracks website traffic. 

Phone – Customers will be able to call you directly from the listing on mobile search. Google My Business also tracks phone calls.

Category – Choose the best primary category that your business falls under.

Step 4: Verify Your Local Listing
The last step in creating your Google My Business account is to verify your local listing. To manage the business information on your account, you must complete the verification process. To make sure you are the rightful owner of the account, Google will send you a verification code either by text, email, or snail mail that you'll have to enter. Once you enter the code, you'll be able to update your business information, manage your reviews, and overall optimize your Google My Business for local strategy.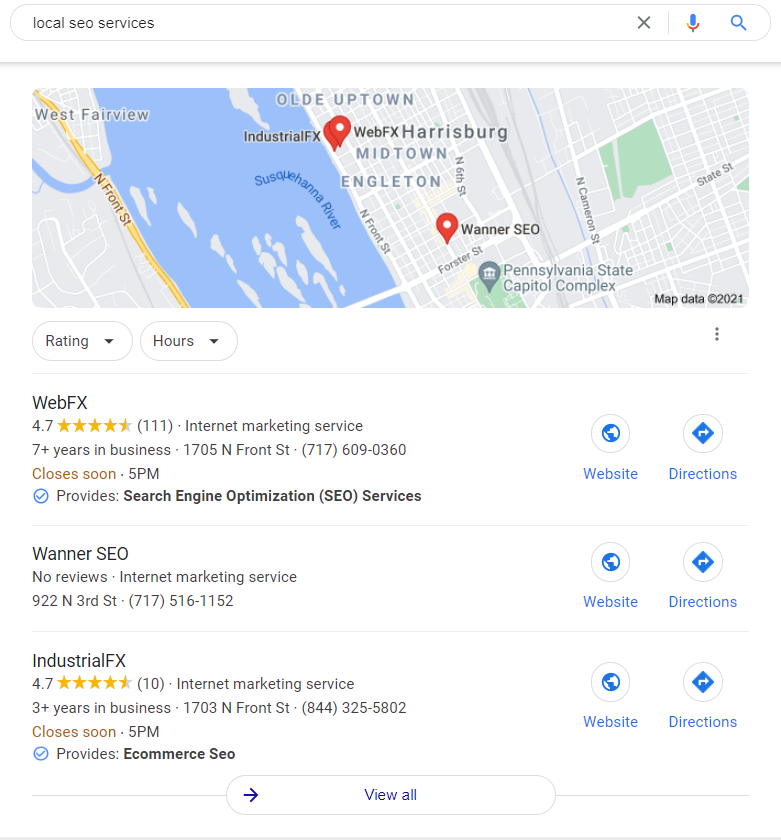 Optimizing Your Google My Business for Local SEO
Once you have your Google My Business account set up, you're going to want to make sure that you're utilizing it in every way possible to improve your ranking in local search results and attract potential customers. The goal is to have your business shows in the local 3-pack. The local 3-pack is the first three Google My Business listings you see in location-based services. Therefore, ranking just under the local pack on the first page in a local google search is also prime ranking and can be achieved through local strategy.

Here are a few ways to make sure your Google My Business account is properly optimized: 
Ensure All Information On Your Listing is Filled Out and Correct

 
Google is a big fan of consistency. So much so that not having consistent information between your Google My Business, website, and other local listings online will hurt your ranking in search results. To avoid a lower ranking, make sure your name, address, and phone number (NAP) are consistent with your website and other listings.
Your listing should be filled out entirely. The more information that's included for customers, the better. This also includes your description, hours of operations, and attributes.
 

Get Reviews and Respond to Them
Reviews play an essential factor in the ranking of your listing. To get reviews, Google allows you to ask your customers to submit them. Make sure you're also regularly responding to reviews since Google also considers this in its ranking factors.
Upload Photos and Videos
First impressions matter, especially in a local SEO strategy. Uploading photos and videos to your Google My Business is an easy way to attract customers to your business. 60% of searchers said local business listings with good images pushed them towards a decision.
Along with these tips, there are numerous other ways to keep your Google My Business updated for local SEO optimization.
Once fully optimized, Google My Business is a must-have asset in your arsenal for your local business strategy and helps you list your website on Google.

Keep improving your business, not only by implementing these strategies but also check your site's health.